SS Fry Pan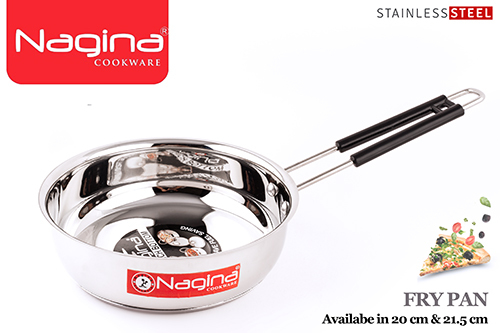 SS Fry Pan
Product Description
It is incredibly tough, even, doesn't lump or twist, remains level for fast cooking on acceptance or electric cooktop. The interesting shape with very much bended sides helps simple blending and blending of food varieties without spilling guaranteeing simple cooking.
FAQS of SS Fry Pan:
What is the upside of a tempered steel griddle?
Dissimilar to the chip covering of ''nonstick'' cookware or stain and rust issues of both plated and cast-iron kitchenware, treated steel is your go-to. Your tempered steel cookware will last you many years, and might be passed down starting with one age then onto the next.
Is pure better than non stick?
Tempered steel skillet and surfaces are awesome for searing fixings and since they're generally uncoated, dissimilar to nonstick assortments, they are more sturdy and impervious to mistakes in the kitchen.
Is hardened steel great for searing?
Best for: Practically any food that necessities broiling, sauteing, or burning. Since it's ovenproof, spotless is additionally a decent decision for food sources that you start on the burner and afterward move to the stove to get done, similar to thick pork hacks.
Trade Information
Asia, Australia, Central America, North America, South America, Eastern Europe, Western Europe, Middle East, Africa

All India